Qualifying for Veteran In-Home Care Benefits in Los Angeles County
Are you a low-income Elder or Senior and U.S. Veteran or spouse living in Los Angeles County, CA and not receiving assistance from the government if you need it? The Veteran Administration strives to provide financial assistance to Elderly Veterans who have provided at least 90 days of active duty military service and one day of service during a wartime period.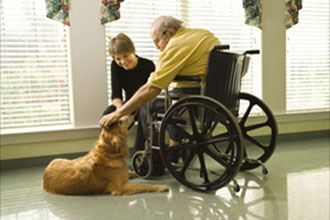 As Elders grow older, the cost of medical expenses and in-home care can become a serious burden that can be made easier for Veterans if they qualify for Veteransí Pension or the Aid and Attendance benefit, which can provide a cushion of monthly payments to help with costs of daily living or home care to maintain independence.
At A-1 Home Care, we can help you find out if you qualify for Veteransí Pension or Aid and Assistance because we know how confusing the application process can be. Finding out if your countable income minus medical expenses is less than the Maximum Annual Pension Rate or gathering evidence that may qualify you for the Aids and Assistance benefit can be coordinated quickly and professionally by any one of our case managers to help see if you qualify for Veteran money from the Veteran Administration.
Companion Care, Elder Care, Care for Adults with Disabilities, After-Surgery Care Available for Veterans
A-1 Home Care is a Licensed Bonded and Insured non-medical homecare agency that has been a care provider in Los Angeles County, CA since 1991 with an A+ Rating from the Better Business Bureau and memberships with the National Care Planning Council and Chamber of Commerce of Torrance, Santa Fe Springs, and Pasadena.

We specialize in providing caregivers for 24 hour Live-In Care or Hourly Care. All of our caregivers, nurse aides, companions, and home helpers must have at least 2 years of prior at home caregiving experience, verifiable professional references, a National Background Check/DMV Check, Tuberculosis testing, Malpractice/Liability insurance, First Aid/CPR training, and a personal interview with our office staff.
Our in-home care services include basic Companionship and Personal Care to more experienced services such as After Surgery Care, Arthritis Care, Alzheimerís & Dementia Care, Parkinsonís Care, Bipolar Care, Diabetic Care, Cancer Care, Hospice Care, Incontinence Care, Post Stroke Care, Heart Attack Care, Lou Gehrigís Disease Care, Multiple Sclerosis Care, Kidney Disease & Tumor Care, and Brain Injury & Tumor Care.
We serve the LA communities of Hollywood, Beverly Hills, Studio City, Westwood, Burbank, Pasadena, Glendale, Covina, Downey, Whittier, Culver City, Torrance, Santa Monica, Malibu, Tarzana, Sherman Oaks, Long Beach, Cerritos, Pico Rivera, San Marino, and others in Los Angeles County.
If your loved one has long term insurance, we accept Penn Treaty, CALPERS, MetLife Insurance, John Hancock, Veteran Administration, and Bankersí Life & Casualty.
To receive assistance qualifying for Veteran Benefits, or to hire a caregiver in your area today, CALL us at 562-929-8400.
To locate a caregiver in Pasadena, please visit PasadenaInHomeCare.com
A-1 DOMESTIC'S HOME CARE BROCHURES