Heart Attack Care in Los Angeles County

Myocardial Infarctions, or heart attacks, are unexpected incidents that require immediate emergency medical treatment to minimize damage to heart muscle tissue. They occur when your heart muscle loses its critical supply of oxygen-rich blood, permanently damaging and weakening the heart. They are usually caused by pre-existing medical conditions such as Diabetes, Coronary Heart Disease, or poor lifestyles that lack proper nutrition and exercise. There are two types of heart attacks – the more common is when plaque builds up in your coronary arteries and narrows the blood supply to your heart. When the plaque becomes hard and breaks, your body reacts by clotting the broken area and can result in total blockage of blood supply to your heart. The second less common heart attack is caused by a coronary spasm.
After a heart attack, it is essential to keep your heart healthy and change your lifestyle to reduce the risk of another attack. A-1 Domestic provides compassionate caregivers who specialize in in-home Heart Attack Care for survivors. If your Elderly or Senior loved one is recovering from a heart attack, we can ensure that they take their medication that prevents future blood clots, improves heart performance, reduces plaque, treats irregular heartbeat, or controls angina.
A-1 Home Care can help you at (562)929-8400
In-Home Care for Seniors at Risk for Heart Attacks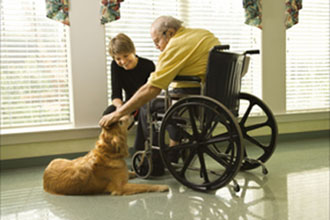 Nutritional modifications, starting an exercise regimen, and quitting bad habits such as smoking are essential to heart attack recovery. Our caregivers can help your loved one improve their quality of life on a 24 hour Live-In Care or Hourly Care basis.
All of our Heart Attack caregivers, nurse aides, companions, and home helpers must have prior at home caregiving experience, verifiable professional references, a National Background Check/DMV Check, Tuberculosis testing, Malpractice/Liability insurance, First Aid/CPR training, and a personal interview with our office staff.
Los Angeles County's #1 Home Care Solution

A-1 Domestic Professional Services is a Licensed Bonded and Insured non-medical homecare agency that has been a care provider in Los Angeles County since 1991 with an A+ Rating from the Better Business Bureau, Shield Accreditation, and memberships with the National Care Planning Council and Chamber of Commerce of Torrance, Santa Fe Springs, Pasadena, and Newport Beach.
We serve the LA communities of Los Angeles, Brentwood, Hollywood, Westwood, Santa Monica, Pasadena, Palos Verdes, Marina Del Rey, Culver City, Studio City, Tarzana, Sherman Oaks, San Marino, Van Nuys, Burbank, Downey, Whittier, Long Beach, Cerritos, and others in Los Angeles County.
To interview and hire a compassionate caregiver today, CALL us at 562-929-8400 for a FREE in-home assessment.