In-Home Care Services for Seniors with Parkinson's Disease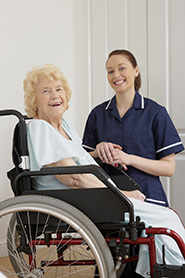 A-1 Domestic & A-1 Home Care are dedicated to providing caring, competent, and qualified Caregivers, Companions and Home Care Providers for cases involving Parkinson's Disease. We provide LOW COST IN HOME CARE SERVICE for the elderly, senior or adult. Our goal is to build ongoing and nurturing relationships while tending to the needs of our Clients and allowing them to maintain their independence. Our service areas include Los Angeles, Orange County, Pasadena, Long Beach, Torrance, Whittier, Downey, Beverly Hills, Santa Monica, Whittier, Downey, Seal Beach, Huntington Beach, Costa Mesa and other neighboring cities.
The most skilled of In Home Providers will NOT perform the best kind of Parkinson Care if they lack essential qualities in compassion, patience, support, empathy and love. A-1 Domestic & A-1 Home Care will help transition your loved one's life into one with fulfillment and substance. Our Caregivers and Home Health Aides will keep your elderly loved one or senior friend active, mentally and physically, so that the only thoughts that will consume them are ones asking, "What's next?" If your family member or friend is looking for live in home care after their stay at Santa Monica UCLA Medical Center, Hollywood Presbyterian Medical Center or Whittier Hospital Medical Center, be sure to contact A-1 Domestic and A-1 Home Care at any time of the day in order to receive same or next day homecare services!
Our services also include Senior Care, Elder Care and Terminally Ill Care.
To discover more about our compassionate At Home Parkinson Care, call us at (562) 929-8400.
24 Hour Parkinson's Care Has Calming Effect on Seniors

The quality of care from our Parkinson Caregivers can give your elder loved one peace of mind and a calming relief essential to their improvement and stability. Symptoms such as sadness, withdrawal, fatigue, anxiety, apathy, sleep disturbance, tremor, rigidity and bradykinesia are well-known to our experienced Parkinson Care Providers; deferral from those behaviors is our number one mission here at A-1 Domestic & A-1 Home Care. Our Caregivers are pet lovers as well and understand the importance they have in the lives of our clients. Medication administration and other medical advisory will be handled successfully and effectively.
A-1 Domestic & A-1 Home Care can help you or your loved one by providing professional Caregivers who are knowledgeable with patient's physical and emotional needs. Hiring a well trained and experienced Caregiver or Certified Home Health Aide to assist you in the comfort of your own home will improve the quality of your life. Services include personal care, meal preparation, running errands, driving to and from doctor's appointments and social engagements.
Discover the continual benefits of Parkinson Care from A-1 Domestic and call us at (562) 929-8400 or visit us online at www.NewportBeachInHomeCare.com
Famous People with Parkinson's Disease

Actor Michael J. Fox suffers from young-onset Parkinson's and is the author of Lucky Man (2000), which tells of his experiences with the disease and how it affected his career and family. He established The Michael J. Fox Foundation for Parkinson's Research to develop a cure for Parkinson's disease.
Other famous sufferers are Pope John Paul II, playwright Eugene O'Neill, artist Salvador Dali, boxer Muhammad Ali, evangelist Billy Graham and former US Attorney General Janet Reno. Numerous actors have also been afflicted with Parkinson's such as: Terry-Thomas, Deborah Kerr, Kenneth More, Vincent Price, Jim Backus and Michael Redgrave.