Hospital Sitters Provide 24 Hour Home Care in Orange County
As aging adults grow older, chronic illness and naturally diminishing health pave the way for more frequent doctor and hospital visits. Sometimes just for a regular check-up and other times for more serious cases such as diagnosis or screening for an emerging illness or scheduled surgery.
At A-1 Home Care, we know how frightening some hospital visits can be. The feeling of anxiety can be difficult to cope with, especially if your loved one has to be at the hospital for a long stretch of time. A-1 Home Care provides compassionate Hospital Sitters for Elders and Seniors to provide companionship and reassurance during their stay, no matter how long the duration. We can provide 24 hour Overnight Care or Hourly Care for your loved one.
All of our compassionate and experiencedHospital Sitters must have at least 2 years of prior at home caregiving experience, verifiable professional references, a National Background Check/DMV Check, Tuberculosis testing, Malpractice/Liability insurance, First Aid/CPR training, and a personal interview with our office staff.
We can provide care at local Orange County hospitals such as Hoag Memorial Hospital Presbyterian, St. Joseph Hospital, Kaiser Foundation Hospital, St. Jude Medical Center, Placentia Linda Hospital, University of California Irvine Medical Center, Coastal Communities Hospital, Orange Coast Memorial, Orange Regional Medical Center, and others.
Quality Overnight Care for Senior or Elderly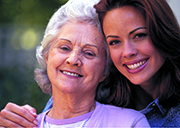 A-1 Home Care is a Licensed Bonded and Insured non-medical homecare agency that has been a care provider in Orange County, CA since 1991 with an A+ Rating from the Better Business Bureau and memberships with the National Care Planning Council and Chamber of Commerce of Torrance, Santa Fe Springs, and Pasadena.
We serve the OC communities of Newport Beach, Huntington Beach, Costa Mesa, Fountain Valley, Laguna Beach, Corona Del Mar, Irvine, Tustin, Santa Ana, Anaheim Hills, Villa Park, La Mirada, Buena Park, Garden Grove, Los Alamitos, Seal Beach, Fullerton, Placentia, Brea, Yorba Linda, Diamond Bar, and others in Orange County.
If your loved one has long term insurance, we accept Penn Treaty, CALPERS, John Hancock, Veteran Administration, Bankers' Life & Casualty, and MetLife Insurance.