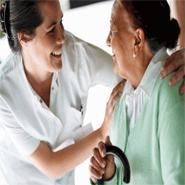 At A-1 Domestic Professional Services is a referral / placement agency with more than 28 years' experience providing senior care, respite care, in-home care services, after surgery care, memory care, hospice care and more for elderly, senior, disabled and terminally ill patients.
Our employment placement agency also provides Childcare Services and can match your family with a Nanny, Mother's Helper, Home Maker, Au Pair, Post-Partum Care or Babysitter.  We can refer Child Care Specialists with experience from newborns through teens. We can provide nanny recommendations for children with Special Needs, Developmental / Physical Delays, on the Spectrum (diagnosed with Autism or Asperger's), Down Syndrome, Tourette's, ADHD or other conditions.
If you or your loved one needs home care assistance or reliable childcare in the Orange County or Los Angeles County areas, you've come to the right place.
Whether you're searching for part-time care, long-term care or round-the-clock services, schedules can be specifically tailored to suit you or your loved one's needs.  Our versatility and flexibility are just a couple of reasons why we remain a leader in Orange County and Los Angeles County Home Care Domestic Placement Services.
Our clients have always been our number-one focus – and with LIVE Intake Coordinators available 24/7 over the phone - we will always be there to assist you with whatever you need, even in the late hours of the night and on holidays.
Count on A-1 Domestic Professional Services to deliver an astounding level of employment placement service backed by our deeply rooted commitment to providing qualified, dignified and respectful caregiving and childcare services.  Our stellar reputation precedes us as many of our clients come to us through referrals from previous satisfied clients.
A-1 Domestic Professional Services forgoes traditional caregiver and nanny assignments and instead places you in the driver's seat when it comes to choosing a care provider for your family.  Feel free to schedule an interview with any of our multi-lingual care providers today at (949) 650-3800, (626) 219-6440 or (562) 929-8400.
Contact us today to talk about your child care, senior, long-term or respite care needs.  Our care experts and trained staff are ready to assist you 24/7.
Hours of Operation: 24 Hours Service, 7 Days a Week, 365 Days a Year
WHY CHOOSE A-1 DOMESTIC PROFESSIONAL SERVICES INC.?
WHY CHOOSE A-1 DOMESTIC PROFESSIONAL SERVICES INC.?
General Information:
We offer Referrals for Affordable Non-Medical Domestic Home Care Services
All Caregivers and Nannies are personally interviewed by our Professional Staff prior to placement
Personal Care Services for Seniors and Elderly include:

Bathing and Hygiene Management
Toileting & Incontinence Care
Medication Reminder
Meal Preparation
Personalized Errands, Medical and Social Appointments
Light Housecleaning
Laundry & Linen Change
Exercise and Range of Motion
Companionship
Mail & Bill Organization

Child Care Services Include:

Professional Nanny, Babysitter or Mother's Helper
Customized Schedules
Experienced Childcare Specialists for Special Needs Care
Care Provided for Single or Multiple-Child Families
Errand Assistance
Light Housecleaning
Laundry and Linen Changes
Night Monitoring
Newborn Care Assistance

Hourly and 24-hour service available
We offer Part Time, Full Time, Short Term, Long Term Placements:

Caregivers
Certified Nurse Aides
Certified Home Health Aides
Respite In-Home Care Givers
Nursing Home / Hospital Sitters
Companions
Homemakers
Nannies
Au Pairs
Mother's Helpers
Babysitters
Post-Partum Care for Mother and Newborn
Pre-Natal Care and Domestic Assistance

All Experienced Care Providers:

Are State Registered
Have Minimum 2 Years' Experience
LiveScan Background Check
DMV Driving Record Check
Sex Offender Database Check
Tuberculosis Test
CPR and 1st Aid Certification
Completed State Required Training
Interview with Referral Agency Staff

Serving Elderly, Seniors, Terminally Ill, Handicap, Post Surgery Clients, Rehabilitating Clients, Expectant Mothers and Families
Providing Child Care for active and special need children on the Spectrum, Down Syndrome, Tourette's, ADHD, Dyslexia, Central Auditory Processing Disorder, Developmentally Delayed, etc.
Traditional face-to-face interviews available daily
Same-Day or Next-Day Service
Free In-Home Assessments
On call 24 hours, 7 days a week, 365 days a year
Providing CARE in Southern California since 1991
We have thousands of satisfied customers in Los Angeles, Orange County, Riverside and San Bernardino. This includes the Inland Empire, San Fernando Valley, San Gabriel and South Bay areas. Please see our Cities Served page for a full list of cities we provide referral and placement services.
Best and most reasonable prices in town
We are committed to Value, Excellence and Customer Satisfaction
We have thousands of satisfied customers throughout Southern California
Methods of Payment:
A-1 Domestic Professional Services, Inc. operates under California Civil Code 1812.5095 as a DRA (Domestic Referral Agency). A-1 Domestic Professional Services, Inc. is a Domestic Referral Agency and not the employer of the Domestic Worker referred to you.
The Domestic Worker may be your employee depending on the relationship you have with him or her. If you direct and control the manner and means by which the domestic worker performs his or her work – you may have employer responsibilities, including employment tax and workers compensation under state and federal law.
For additional information contact your local Employment Development Department or the Internal Revenue Services.