Los Angeles County's Leading 24-Hour Hospice Caregiver Assistance

Hospice Home Care is becoming an increasingly popular alternative of care for Terminally Ill individuals instead of uncomfortable hospital stays that can be stressful for your loved one. The focus of Hospice Home Care revolves around relieving the physical pain and emotional worries that your beloved family member may have and allowing them to remain in the comfort of their homes surrounded by loved ones.
Our referral services also include Senior Care, Elder Care, Child Care and Terminally Ill Care providers.  To discover more about our compassionate At Home Hospice Care Assistance, call us at:
Los Angeles County:
562-929-8400
San Gabriel Valley:
626-219-6440
Orange County:
949-650-3800
Hospice Care from Expert Caregivers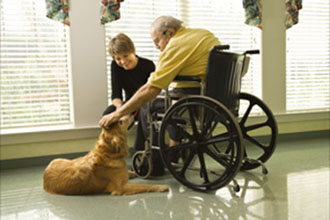 A-1 Domestic Professional Services is a referral and placement agency.  We match your family with experienced caregivers for Hospice Home Care on a 24-Hour, Around-the-Clock or Part-Time Hourly Care basis. We individualize your schedule based on your routine and care needs. Having a Hospice Caregiver, your loved one will stay at ease. They will have someone to provide companionship, to talk with about their past, spiritual beliefs, family or whatever else is on their mind. Our caregivers can ensure that your loved one stays comfortable, retains their dignity and takes medication as needed for pain.
Additional Personalized Care Services:
Personal Hygiene Assistance / Shower or Bedside Bath
Incontinence Care / Toiletry Assistance
Medication Reminders
Walking / Mobility Assistance
Range of Motion
Errand Assistance
Companionship
Meal Preparation
Feeding
Light Housecleaning and Laundry
Bathing and Tuck-In Services
Changing Bed Linens
So many families resist Hospice Care Services. They feel it means giving up on their loved one. The truth is Hospice Care provides many important resources to the patient and their family. Being designated as a "Hospice Patient" enables various health care services, including bereavement and support services be made available to the entire family. These resources include:
Assistance from Case Managers and Social Workers
Various Resources for Seniors and Terminally Ill
Access to Medical Supplies, Including Hospital Beds
Visiting Nurses to Administer Medications
Legal, Spiritual or Financial Advisors
Many clients who've used our home care employment referral services for a beloved family member, appreciate the care and concern – the emotional and physical support – caregivers provide to the entire family.

Caregivers for At Home Care for Terminally Ill
Our Hospice experienced Caregivers will provide the helping hand your loved one needs while ensuring support to your family. A-1 Domestic Professional Services agency provides compassionate and reliable
In Home Care
and
Elder Companion Care
. 
We arrange caregiver services that fit your needs - part-time, full-time, around-the-clock, overnight and hourly services available - 24 hours a day, 7 days a week – even on holidays.
We offer exceptional care for individuals who are undergoing or have undergone bladder control problems, constipation, nausea, Memory Loss, Dementia, Muscular Dystrophy, Hypertension, Diabetes, Alzheimer, Glaucoma, Aphasia, Stroke, Arthritis and Tuberculosis.
A-1 Domestic Professional Services Inc. can also arrange Nanny, Mother's Helper, Home Maker or Au Pair services.  Having a childcare expert during this traumatic and chaotic time will provide extra comfort to your children and provide you with extra support.
We are approved by Long Term Care Insurance companies including Penn Treaty, John Hancock, Bankers Life and Casualty, Veterans Administration, CalPERS, MetLife Insurance, Continental Casualty Company and Senior Health Insurance Company of Pennsylvania.
For more information about Hospice Care Asisstance and other services we provide call:
Los Angeles County:
562-929-8400
San Gabriel Valley:
626-219-6440
Orange County:
949-650-3800