Hospital Sitters Provide 24 Hour Home Care in Orange County and Los Angeles County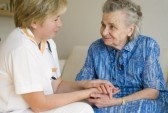 Hospital sitters can play a pivotal role in not only assisting the patient suffering from poor health but can also provide them companionship and motivation to recover and return home.
As aging adults grow older, chronic illness and naturally diminishing health pave the way for more frequent doctor and hospital visits.  Sometimes a regular check-up leads to the discovery of a more serious case such as diagnosis of an emerging illness or need for scheduled surgery.
Hospital Sitters can play a pivotal role by providing one-on-one care and companionship during the patient's hospital stay. A Hospital Companion is a welcome distraction, taking your loved one's mind off the worry and fear a hospital stay can cause. Anxiety diminishes strength and energy needed to heal. Having a Hospital Sitter to provide comfort and emotional support will lower stress, allowing your family member to return home faster and stronger.
Our Hospital Sitters Provide Personalized Support
At A-1 Domestic Professional Services, we know how frightening some hospital visits can be. The feeling of apprehension can be difficult to cope with, especially if your loved one must be at the hospital for a long stretch of time and you can't be by their side.
Every Hospital Sitter from our referral and placement agency is personable, friendly and experienced.
All caregivers and hospital sitters matched to clients understand how to comfort and assist people undergoing traumatic events such as illnesses, health scares and surgery. We can arrange reliable and compassionate Caregivers, Nurse Aides, Personal Care Assistants and Home Health Aides to provide your loved one the personalized care and support they need during this difficult time.
If you'd like more opportunities to visit your elderly loved one during their hospital stay, our employment referral agency can arrange childcare services.  We can match your family with a Mother's Helper, Babysitter, Nanny, Home Helper or Au Pair so your children can stay at home, safely, while you pay a visit to your mother, father or grandparent.
For those that are disabled, frail or chronically ill and are less independent, our trained
Facility Aides
can assist with daily activities and personal care in the comfort of their Assisted Living Home or at a Skilled Nursing Facility
. While certain services such as bathing, hygiene assistance, toiletry / incontinence care, meals, housekeeping and laundry are provided by the facility staff, A-1 Domestic Professional Services can arrange individualized care for your loved one to increase their comfort and quality of life, especially if they need specialized care.
Advanced Care Provided By A-1 Domestic Professional Services:
Personalized Assistance Recovering from Injuries, Accidents or Falls
After Surgery Care
Safety Supervision
One-On-One Companionship
Dementia / Memory Care
Parkinson's Disease Care
Alzheimer's Disease Care
After Stroke Recovery Assistance
Depression
Arthritis / Pain Management
Disabilities and Special Needs
Low Vision / Hearing Loss Assistance
Bi-Polar / Manic Depressive Disorder
Hospice Caregiver Assistance
Care for Dialysis Clients
Mobility Assistance
Range of Motion
Errand Assistance
While Assisted Living Communities do employ personal care aides, there are dozens, if not hundreds, of seniors that require additional assistance and support. Assisted Living and Skilled Nursing Facilities are understaffed and overworked and cannot provide one-on-one care to every resident. Your loved one will have their needs scheduled along with all the other residents needing assistance. They won't be able to start their day when they want or follow their own daily routines. This can be very frustrating for someone who is used to being independent. All care providers are carefully screened, providing you with quality assistance and peace of mind.
For more information about Hospital Sitters or Facility Aides, call:
Los Angeles County:
562-929-8400
San Gabriel Valley:
626-219-6440
Orange County:
949-650-3800