In-Home Respite Care: 24-Hour and Hourly Care Available
If you are looking for short-term relief from caring for your elderly loved one or senior friend, A-1 Domestic Professional Services Inc. offers personalized Respite Care Givers on a 24-Hour, Overnight or Hourly basis to provide professional and compassionate in home care.
In case of an upcoming trip or recent surgery, our referral service agency offers Companion Care that will accomplish all tasks for daily living. We provide at home employment and placement caregiving services in Los Angeles County, San Gabriel Valley, Orange County including the cities of Pasadena, Torrance, Long Beach, Downey, Seal Beach, Whittier, Hollywood, Newport Beach, Costa Mesa, Huntington Beach and other cities in Southern California.
Call A-1 Domestic Professional Services Inc. today for our exceptional In-Home Respite Care services:
Los Angeles County:
562-929-8400
San Gabriel Valley:
626-219-6440
Orange County:
949-650-3800
Short-Term Relief for Family Caregivers
The duties of the Family Caregiver often overwhelm even the toughest and strong-willed of individuals. With balancing work, caring for the needs of other family members, as well as full-time caregiving duties for your loved one with chronic illness or disability, it is no surprise that people come to us looking for additional assistance.
Although we cannot replicate the level of care and love from a family Caregiver, we assure you that the professional Respite Caregivers, Elder Home Health Aides or Senior Companions will devote the same amount of round-the-clock effort to ensure that all the needs of your loved one will be met.
Some of the chronic illnesses and conditions many of our clients go through are:
Dementia / Memory Loss
Pain / Mobility Issues
Appetite Loss
Cancer
DVT
Dry Skin
Heart Disease
Vision Changes / Macular Degeneration
Scabies
Sleep Disorders
Shingles
Pressure / Bed Sores
Dehydration
Hypertension
Osteoporosis
Call today for help tomorrow!
Los Angeles County:
562-929-8400
San Gabriel Valley:
626-219-6440
Orange County:
949-650-3800
24 Hour Senior Care Immediately Available after Discharge from Hospital or Facility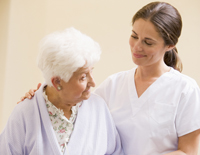 A-1 Domestic Professional Services Inc. has worked with several clients who have been discharged from facilities in order to receive in homecare from a Family Caregiver. Local facilities where clients have been referred include Hoag Hospital, Woodruff Convalescent Center, PIH Health, Lakewood Regional Medical Center and Imperial Convalescent Hospital. Let us help you discover the renewed benefits of professional at home respite care from the best in the caregiving industry.
We've been an employment / placement referral agency for at-home elder care, child care, after surgery care and home helpers since 1991. We are approved by Long Term Care Insurance coverage through the following companies: Penn Treaty, John Hancock, Bankers Life and Casualty, Veterans Administration, CalPERS, MetLife Insurance, Continental Casualty Company, Senior Health Insurance Company of Pennsylvania and the Veterans Administration.