Non-Medical Home Care
You may notice your mother or father may need a little help with their daily tasks, appointments and household chores. You know they're in good health, but you see they could use some additional assistance. Unfortunately, you have other responsibilities that make it difficult to be there for your aging parent as much as you'd wish. A-1 Domestic Professional Services Inc. offers non-medical home-care referral and placement services that match seniors and elderly people to compassionate Personal Care Assistants.
Using A-1 Domestic Professional Services Inc.  to fine a Caregiver, Elderly Companion, Personal Care Assistant, Home Health Aide or Nurse Aide allows your loved one to remain in their own home and retain their independence. We have been helping families find domestic help through our Referral and Employment Placement Services since 1991.
Caregivers Assist with All Activities of Daily Living:
Personal Hygiene / Bathing Assistance
Incontinence Care / Toiletry Assistance
Medication Reminders
Mobility / Walking Assistance
Range of Motion
Errand Assistance
Companionship
Meal Preparation
Light Housecleaning and Laundry
Assistance Recovering from Injuries, Accidents or Falls
Bathing and Tuck-In Services (Certain Areas)
Other Services Available:
Dementia and Memory Care
Safety Supervision and Fall Prevention
Alzheimer's Disease
Sundown Syndrome
After Surgery / Post-Acute Care
After Stroke Care
Recovery from Hip or Knee Replacement Surgery
Bed Sore Treatment and Care
Parkinson's Disease
Cancer Caregiver Support
Hospice Caregiver Assistance
Care for Dialysis / Kidney Disease Clients
Arthritis / Pain Management
Rheumatoid Arthritis
Osteoporosis
Disabilities and Special Needs
Low Vision / Hearing Loss Assistance
Depression
For more information, call:
Los Angeles County:
562-929-8400
San Gabriel Valley:
626-219-6440
Orange County:
949-650-3800
What Makes A-1 Home Care Agency Right for You?
28 Years' Experience with Home Care Services
Customized Schedules and Care Plans:

Full Time
Part Time
24-Hour / Round-the-Clock
Overnight
Short-Term Care
Long-Term Clients
Weekdays and Weekends

Various Types of Care Providers to Choose From:
Certified Nurse Assistants (C.N.A.)
Certified Home Care Aides (C.H.H.A.)
Personal Care Assistants / Aides
Respite Caregivers
Hospital / Nursing Home Sitters
Home Attendants
Homemakers
Nursing Home Sitters
Private Duty Nurse Aides
Mother's Helper
Nanny
Babysitter
Au Pair
Pre-Natal and Post-Partum Caregivers
Home Helpers
24 Hour Senior Care for Safety and Security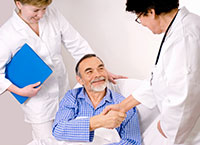 Our non-medical home care referral agency focuses primarily on helping seniors in their daily lives and families in need of reliable childcare.
Most seniors that live alone need assistance at the beginning of the day to get dressed, groomed and take necessary medications. Additionally, many need help at the end of the day getting prepared for bed, and maybe through the night. Apprehension and anxiety about the nighttime can make it difficult for seniors to fall asleep and unwind.
Also, one of the most important needs for seniors who live by themselves is often simple companionship; they need to have someone there to keep them company. A-1 Domestic Professional Services Inc. provides caregivers who understand this need, along with the physical assistance necessary for daily living. Stimulating conversation, as well as interaction with another individual, is one of the main key components in keeping the mind engaged and alert. There is much to be said about the healing aspects of companionship, simply having someone there to hold one's hand or to talk with, can do wonders for the mind, body and spirit. With our non-medical home care employment and placement services, we match  clients with compassionate caregivers who understand the importance of companionship and friendship.
Finding a reliable, trustworthy and caring childcare service provider is daunting, especially if your child has Special Needs.
Our domestic services referral agency helps eliminate unsafe candidates, saving you time and giving peace of mind.
All Care Providers for Adult or Children Must provide proof of:
State Registration
Minimum 2 Years' Experience
LiveScan Background Check
Verifiable References
Sex Offender Database Check
Tuberculosis Test
CPR and 1st Aid Certification (for Adults and Children)
Completed State Required Training
Malpractice / Liability Insurance
Business License as Domestic Professional / Home Care Provider
Interview with Agency Staff
We serve Los Angeles County, Orange County, San Gabriel Valley and South Bay areas and are approved by Long Term Care Insurance (LTCI) companies including Penn Treaty, CALPERS, John Hancock GenWorth, Bankers' Life & Casualty, MetLife, Veteran Administration and many others.
Our extensive knowledge of Long Term Care Insurance procedures allows our clients to receive timely reimbursement from their insurance company for Non-Medical Home Care Services.
Call now!
Los Angeles County:
562-929-8400
San Gabriel Valley:
626-219-6440
Orange County:
949-650-3800