Home Care Services 24 Hours a Day, Seven Days a Week
Full or Part-Time Private Duty & Companion Care Providers in the Los Angeles, San Gabriel Valley, Orange County, San Bernardino & Riverside areas
Caregiver or Home Health Aide for After Surgery Care
Call A-1 Domestic Professional Services if you or a loved one is scheduled to undergo knee or hip replacement surgery and need help to recover at home. We can provide an experienced Caregiver or Certified Home Health Aide to assist you in your home. Lowering stress and staying off one's feet will increase the body's ability to heal.
Nanny and Special Needs Childcare Providers
We can help you find the right Nanny, Babysitter, Mother's Helper, Home Maker Aide, Au Pair or Special Needs Care Provider for your family.
Los Angeles County's In-Home Caregiver and Child Care Services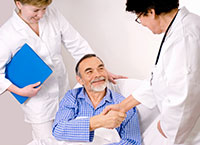 A-1 Domestic Professional Services is a referral / placement agency with nearly 30 years' experience matching families with qualified Caregivers, Companions, Certified Home Health Aides, Certified Nurse's Assistants, Home Attendants, Nannies, Personal Care Assistants, Mother's Helpers, Post-Partum / Newborn Care Provider or Respite Care Givers.
Our intense screening process includes face-to-face interviews with all domestic home care providers before they are referred to our customers.:
In addition, Care Givers must:
Be State Registered
Have Minimum 2 Years' Experience
Provide LiveScan Background Check
Have Clean DMV Driving Record
Pass a Tuberculosis Test
Have CPR and 1st Aid Certification
Have Malpractice / Liability Insurance
Completed State Required Training
Interview with A-1 Home Care Agency Staff
Live-In Home Private Duty Nursing or Live-Out Home Care Services
A-1 Domestic Professional Services is dedicated to providing the best in home care at an affordable rate. The experienced private duty home care specialist arranged by our employment agency will provide assistance for your friend, family member or loved one, allowing them to remain independent and in their own home for as long as possible.
Certified Nurse Aides (C.N.A.s) for Pre-Natal, Postpartum Care or After-Surgery Care
A-1 Domestic Professional Services can help! We have the right Private Duty Nurse for your personal needs. All our Child Care Providers have Adult, Child and Infant CPR and First Aid Training.
In-Home Care for Seniors and Adults with Disabilities

A-1 Domestic Professional Services specializes in providing well-trained professional caregivers to provide personalized companion care for your loved one in the comfort of his or her own home. We work with the family and medical professionals to provide a specialized care plan based on the needs of the individual.
Our services can include:
All Activities of Daily Living
Personal Hygiene Assistance
Incontinence Care / Toiletry Assistance
Medication Reminders
Mobility Assistance
Range of Motion
Errand Assistance
Companionship
Meal Preparation
Light Housecleaning and Laundry
Assistance Recovering from Injuries, Accidents or Falls
Bathing and Tuck-In Services (Certain areas)
Dementia and Memory Care
Safety Supervision
Alzheimer's Disease
After Surgery / Post-Acute Care
After Stroke Care
Parkinson's Disease
Cancer Caregiver Support
Hospice Caregiver Assistance
Care for Dialysis Clients
Arthritis / Pain Management
Disabilities and Special Needs
Low Vision / Hearing Loss Assistance
For more information, call:
Los Angeles County:
562-929-8400
San Gabriel Valley:
626-219-6440
Orange County:
949-650-3800
Care at Home Care for Hospice or Terminally Ill Patients
A-1 Domestic Professional Services offers specially trained care providers in the needs of a bedridden patient. Our caregivers know the importance of repositioning a non-ambulatory patient reducing pain or preventing bedsores. Caregivers understand the emotional needs of a terminally ill patient's family and work towards providing peace of mind.
Part-Time or Around-the-Clock Respite In-Home Care
If you need a day or two to recharge from caring for a relative or you need to leave town for a few days, A-1 Domestic Professional Services can provide Respite Care on a regular or temporary, short-term basis. Taking some time off to restore your strength will enable you to continue providing quality care for your loved one.
In-Home Care for the Elderly in Distant Cities
Living a distance from your elderly or senior loved ones makes caring for them yourself difficult.  A-1 Domestic Professional Services can arrange professional, reliable and compassionate caregivers to assist your loved one. Our Care Providers can help the people you care about maintain their health and independence.  Placement services from A-1 Domestic Professional Services grant you peace of mind knowing your loved ones are in caring hands.
Traveling Home Care Companion or Private Duty Nurse
If you would like to travel with a loved one or family member who needs assistance, A-1 Domestic Professional Services can arrange Private Duty Nurses and Caregivers. We have experienced Caregivers and Private Duty Nurses who can assist with daily physical needs while you are traveling, removing unnecessary stress and worry.
24 Hour In-Home Care Assistance After Surgery
If you are concerned about the daily needs for yourself or your family while you are recuperating from a scheduled cosmetic surgery procedure, A-1 Domestic Professional Services can give you peace of mind. We can offer Short-Term Home Care during your convalescence to assure a complete and successful recovery.
Whether you're a first-time mother-to-be or have the blessing of other children, having a Post-Partum Caregiver alleviates the stress of adding a new baby to your family.  If you've been placed on bed rest or have health concerns, we can refer a compassionate and reliable Prenatal Caregiver to assist as you approach your due date.
Companion Care Aides and Hospital Sitters Available in Facilities
If you need someone to provide Companion Care in a hospital or nursing home, A-1 Domestic Professional Services can help. Our Caregivers can provide one-on-one companion care while you're at work, helping to alleviate the anxiety and fear your loved one may feel when they are admitted into a facility.

Call today for help tomorrow!
Los Angeles County:
562-929-8400
San Gabriel Valley:
626-219-6440
Orange County:
949-650-3800
Hourly or Full-Time Post Surgery In-Home Care for Children
A-1 Domestic Professional Services can match your family with a professional childcare provider for a minor in your family scheduled to go through surgery. We have skilled Nannies, Mother's Helpers, Babysitters and Au pairs with Early Childhood Education Training and experience helping children with physically and emotionally difficult situations.
24 Hour or Hourly Respite Care While You're Away
If you need to travel for a business trip and have concerns regarding a loved one's care while you're away, A-1 Domestic Professional Services can arrange the help you need. We can provide a Caregiver, Certified Nurse Aide, Certified Home Health Aide, Personal Care Assistant or Medical Assistant for the duration of your trip on a regular or one-time-only basis.
Pet Friendly Care Providers Available for Elder Care
As people become older, the bond between them and their pets become stronger.  A-1 Domestic Professional Services can match your loved one with a Pet Friendly Caregiver.  Caregivers arranged by our referral agency provide the in-home elder care needed, assuring your loved one receives the help they need, and their pets are not a burden.